Ebenezer Orphanage and School
Our current project consists in building an orphanage center in the Maji Ya Chai area of Arusha, on a safe and green land providing conditions allowing for self-sustainability and self-reliance for children ! Working with an existing orphanage called Ebenezer Orphanage, our aim is to build a community that includes a public school, dorms, a playing field and gardening area and a farm. This orphanage will have a larger and safer infrastructure with better facilities allowing us to welcome new orphans and children in need!
What has been achieved so far?
The public school and day care 
In August 2016, we have finished building public school, the first one in the village of Maji Ya Chai! We've built two classes that can welcome approximately 40 students as well as six toilets and one shower! Acting as a day care, this school can welcome children that cannot afford private education or that face difficult family situations. As the orphanage collaborates with local NGO's, the children have the chance to meet international volunteers and be surrounded by teachers that will care, educate and protect them on a green land and learning environment.
Why does this project matter? 
Most of the children of that village never went to school and spent their days wandering in unsafe places without one of the most fundamental right: education. Keeping the classes to a small number of students will allow us to have a close relationship with each child, responding effectively to their needs.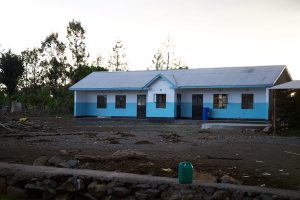 A permanent water system
As the village of Maji Ya Chai is surrounded by the Usa River, agriculture and cattle will be one of the main activities of the orphanage, with production ranging from bananas, maize, beans, avocado, eggs – turning the center into an empowered structure. Access to water means communities have more time to grow food, earn an income, and go to school – all of which save time and break with the cycle of poverty!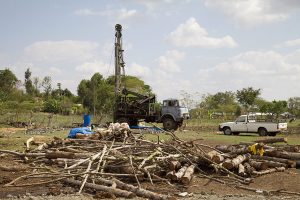 3 shops
Located close to the orphanage, these shops will enable the center to become self-sufficient through the revenue received from sales and integrate people of the village at large.
Why do these actions matter?
Because we believe in supporting children holistically, we chose to implement the water system, grow a garden and develop small businesses that will ensure healthy development of the center and its surrounding community as a whole. Having water and small businesses represent an incredible progress for them. It will not only drastically reduce nutrition cost for the children as the orphanage will be cultivating its own food but it will contribute positively to the members of the village as a whole, as many families do not have the sufficient resources to engage in agricultural activities. These micro-businesses will support the children and local communities!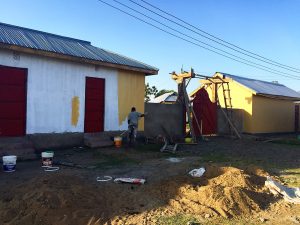 Only one more step to complete the project: Building dorms for orphans!  
Our urgent priority today is to build dorms for the Ebenezer orphanage to welcome the children of Ebenezer Orphanage in a new home with better facilities and ultimately saving new orphans' lives by welcoming them in a welcoming center.  The dorms will be a two-floor house – the ground and second floor will have 4 rooms each as well as bathrooms. So far, we have built the gate and half of the cemented fence surrounding the future orphanage!
We can make a huge difference in the lives of those children who deserve nothing but happiness, love and care. Children in Tanzania are abandonned like the one in the pictures, on a daily basis. We must make this project move forward as soon as possible but we cannot do it without you.
If together, we succeed in building the dorms, Ebenezer Center Orphanage will not only be a place to sleep, it will be a multipurpose children community center bringing a diversity of kids together in a place where their happiness is finally the focus and education their future.